Elno is a new level of automation for monitoring and reporting temperature.
Need to monitor refrigerators to track the temperature of medical supplies or food inventory?
Need to provide Audit Reports for monitoring compliance?
Have a fish tank with exotic fish that requires tight regulation on temperature?
Would you like to know if the refrigerator in your home is having problems, before your food goes bad?
Elno will do these tasks for you.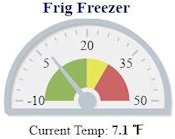 Elno can watch your coolers, refrigerators, freezers, fish tanks, almost anything you need to track, log, and monitor.
Elno is packed with features and designed to be simple to meet your critical monitoring needs,
freeing your time for other important tasks.
Elno provides Email and Text alerts when critical temperatures happen.
Designed flexibility to match your needs.